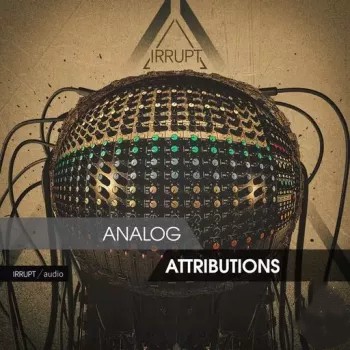 'Analog Attributions' is an absolutely awesome product with a clear focus on those dusty bits of hardware that confidently stand the test of time. The machines with that warm, gritty fuzzy sound that underground dance music lovers drool over. Crisp percussion, incredibly textured synths and pads, warm basslines, and unusual noises generated when tweaking the knobs just a bit too far past the manufacturers recommended tweak (aka breaking rules is fun). As an added bonus, we've focused most of our attention on the moodier elements of musicianship, as you may realize upon listening to the beautiful sounds inside the product. Dark, groovy, heady and thick.
Digging into the product, you'll discover various forms of loops and tools, drenched in analogue saturation and top production level satisfaction. Bass frequencies from the lowest end to higher reaching tones, drum and percussive loops, as well as some awesome melodies we're quite in love with. The sounds of classic gear, once added to your DAW, and later blasting out of a well made stack of speakers, will surely turn on some future music lovers to the wonders of analog.
Does using analog gear make your music sound better? The short answer: Yes. The long answer, yesssssss, especially when you're using analog gear that has been collected and added to an incredible sound product where only the absolute best bits of all the instruments have been included. There's no scraps here, ladies and gentlemen. This is prime-o, grade-A shizznit. The best sounds from the best analog synths and drums and weird bleepy bloopy machines that have been created and worshiped like Gods since electronic dance music was invented.