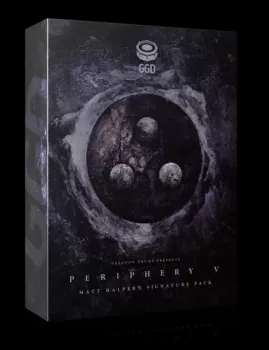 THE NEXT STEP IN YOUR DRUM PRODUCTION
The PV Matt Halpern Signature Pack sits at the pinnacle of drum libraries, a jaw-droppingly powerful, organic and realistic-sounding kit recorded during the making of Periphery V: Djent Is Not A Genre.
Featuring many signature and unique kit pieces, and captured in the beautiful ambience of Real World Studio's Wood Room, the library is the culmination of all of the drumming and engineering experience that the GGD team has gathered and fully represents the incredible, critically-acclaimed drum sound on the record. Not only that, but the quality of the source tones and the extreme detail of the sampling make this kit amazingly versatile beyond the world of progressive metal. Check out the features:
Kontakt Player Library (with full NKS integration) and can be used with Kontakt's Free Player – no need to buy the full version of Kontakt to use GGD!
The exact drum sounds captured for Periphery V: Djent Is Not A Genre
The latest and greatest in our series of Halpern signature packs
A brand new, fully-featured and intuitive UI for creating your drum tones
Built-in Groove player
Built-in processing and reverb
Envelope and pitch control for each mixer channel
Painstakingly sampled for unbelievable realism
Three snares, two kicks, four toms and 11 cymbals featuring Pearl Drums and Meinl Cymbals
The entire kit is tuned to perfection, so you'll never be fighting against sour notes in your mix
Every sample is phase-coherent for easy layering
Raw to processed tones with a turn of our powerful Turbo Knob
We're extremely proud to present the PV Matt Halpern Signature Pack to you, we think it's a fantastically inspiring instrument for the most intricate and nuanced passages or the most bludgeoning of breakdowns. The variety of drums, tunings and cymbals on offer, combined with the exciting and enveloping room sound make this a drum library you'll want to reach for over and over again.