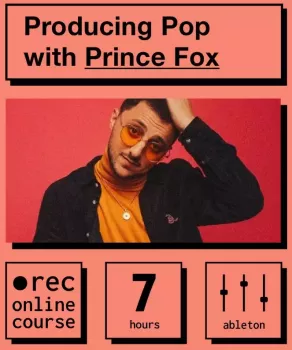 In this five-day course, Prince Fox shows how to add the 'special sauce' to your tracks, master the tools at your disposal, and accomplish more with less. Equal parts producer, writer, engineer, and multi-instrumentalist, Prince Fox is probably the secret weapon of at least one of your favorite musicians. His credits include Hailee Steinfeld, Bella Thorne, YG, Rich The Kid, Timbaland, and many others. He also produces and sings under his own moniker, effortlessly traversing the worlds of house, indie pop, and future bass. Is there anything this man doesn't do?
Topics include selecting and sequencing drum samples, sample manipulation, guitar and synth processing, 808's, and more. As a bonus, we are providing samples for you to flip in a first-ever IO beat battle. Sign up now to get the tips you need to write and produce your next hit.
Prince Fox
"Pop That Knocks" is the ethos of New Yorker Sam Lassner, professionally known as Prince Fox. Having worked with artists and producers like Timbaland, YG, Hailee Steinfeld, Bella Thorne, Rich The Kid, and many others., his output marks Prince Fox's embrace of his eclectic taste. Putting his vocals on more of his own songs, as well as putting his "pop that knocks" flare to good use on others releases, Fox shows no signs of slowing down.