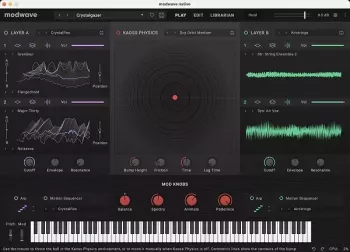 Modwave Native Wavetable Synthesizer Synthesis powerhouse with distinctive wavetable timbres, Kaoss Physics, and Motion Sequencing 2.0. The modwave, released in 2021, builds on the DW legacy and transforms it into a modern monster synth, featuring incredibly deep wavetable oscillators, gorgeous filters, wildly flexible modulation, sophisticated pattern sequencing, and macro controls to deliver unique, powerful, and easily customizable sounds and phrases.
Gigabytes of samples
Wavetables also sound great when layered with samples, and the modwave oscillators handle that with aplomb, using KORG's proprietary anti-aliasing sample playback technology. Totaling in the gigabytes, the modwave's sample library includes new material from KORG, Airwave, and Francis Preve, plus a bank from Plugin Guru and a selection from the Kronos and Krome libraries.
User Sample Banks let you add more Multisamples to the system. You can create your own Banks, or use Banks from third party sound developers. modwave native can load many User Sample Banks simultaneously. This is one area in which software has the edge, due to the large amount of storage and RAM available on your computer: the hardware modwave can load only one User Sample Bank at a time.