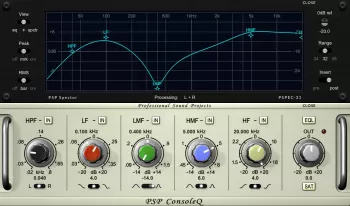 Tracking and Mixing console equalizer!
PSP ConsoleQ is a British console-style equalizer, designed to provide an analog EQ experience in both sound and operation. It's perfect for whenever an engineer wants to fix or shape audio, or make tracks stand out in a mix, regardless of the source.
PSP ConsoleQ v. 2 now takes the experience even further, with smoothly adjustable frequency control for all bands. To go with this, the user interface has added numerical value displays for precise settings.
In addition, there's now a new way to look at and interact with PSP ConsoleQ. The PSP Spector PSPEC-31P pop-up module offers a 31-band realtime analyzer with multiple display options, and has a graphical user interface to control multiple EQ settings at once on any band with just one click.
PSP ConsoleQ is CPU efficient enough to be used at every stage of the creative process, from composition through tracking to final production/mixing/mastering. Whenever you want quick musical results, we are confident this equalizer will do the job with musical style and grace – and now it's more precise, more informative, and easier to use than ever.