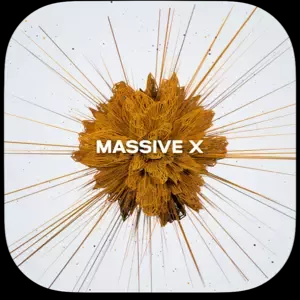 MASSIVE X is Native Instruments' new flagship synth, built by the same team as its predecessor. Based on a state of the art architecture, it delivers pristine sound, and huge creative flexibility for artists and sound designers alike – allowing them to create, modulate, and experiment with sound from a huge range of sources, in any way they like.
NEXT-GENERATION FLAGSHIP SYNTHESIZER
» Immaculate sound and complete sonic freedom for advanced sound design
» Create with a new level of dynamic, shifting sound, with truly flexible routing and extensive modulation
» Based on the DNA of MASSIVE, built for a new decade and designed to evolve
THE (RE)BIRTH OF A LEGEND
Rethought, rewired, and reincarnated – MASSIVE X is the successor to an iconic synthesizer that helped spawn entire genres. Get everything you need to create any sound imaginable. Quickly patch complex routings to bring your ideas to life – no matter how far-out they might seem – and take things further than you thought you could with expressive, playable modulation. Think it up, dial it in, and define what the future sounds like.
MASSIVE X will grow, adapt, and evolve with regular free updates – both inspired by, and to inspire, the cultures it helps to create.
INTRODUCING EXPANSION DROP #5
Drop #5 is here, bringing fresh synth flavors to MASSIVE X. From cinematic sound effects in KINO, fierce rave energy from WAKE, and ethereal atmospheres from FADE, the versatile trio have all you need to lose yourself in sound design.
→ MASSIVE X's highlights:
THE OSCILLATORS
At the heart of MASSIVE X you'll find the completely new oscillator section – capable of producing more variation than some entire synths, right at the source. Choose from over 170 wavetables and 10 different modes of reading them – from the aggressive Gorilla family, to a wavetable-bending mode, Hardsync, Formant, and many more – each with their own unique sub-modes and additional controls. Dial in two phase-modulation oscillators to inject extra movement into the main oscillators.
ROUTING REIMAGINED
Connect any output to any input, and see what happens. The intuitive routing setup lets you essentially rewire parts of MASSIVE X, meaning you can bypass, feedback, and send audio any way you like. It's also possible to route modulators as audio sources to excite elements such as the comb filter.
PERFORMERS: MADE TO MODULATE
Draw precise patterns of modulation in the Performer section, and assign them to parameters for complex, evolving patches, or for controlled changes to your sound. You can then use the Remote Octave control to trigger them on your keyboard, meaning you get truly playable modulation and huge expressive variety within a single patch.
MORE THAN SKIN-DEEP
Whether you're a daytime sound designer or all-night deep diver, switch to a skin that suits your workflow. Keep a little extra CPU power under the hood with stripped-back flat modes, and resize MASSIVE X to fit your studio.
PACKED WITH PRESETS
MASSIVE X comes loaded with presets – from sequenced soundscapes, to leads, pads, and the big bass growlers you'd expect. Use them as they are, to kick off your own patches, or to experiment and learn more about how the synth works. We'll keep adding more with regular free library updates.
THE GORILLA GANG
Worthy of special mention is our band of Gorilla oscillator sub-modes – King, Kang, and Kong. Feed them wavetables and they'll deliver some of the fattest, and most aggressive tones you've ever heard.
GET HANDS-ON WITH MACROS
Instantly control the parts of MASSIVE X you need to with 16 assignable macro controls. These also enable you to control the synth's parameters easily in your DAW. Assign pitch bend, modwheel, and aftertouch to modulate any parameter for extra playability.
MASSIVE X EXPANSIONS
MASSIVE X Expansions are cutting-edge, curated preset packs from expert sound designers with a meticulous approach to sculpting sounds and squeezing the best out of our flagship synth. Expansions contain 150 presets for a certain genre, mood, or utility, so you have killer sounds when you need them fast.