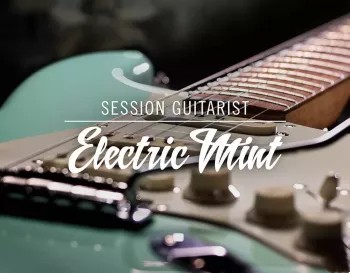 SLICK SIX-STRING SONGWRITER
– The signature sound of a solid-body electric guitar with 3 combinable single coil pickups
– 222 strummed and picked patterns spanning a range of genres
– Choose from a selection of chord progressions or play your own melodies
SPARK FRESH IDEAS
ELECTRIC MINT captures the distinct flavor of one of the world's most recognised solid-body electric guitars, sampled from an original vintage 1960's USA model. Whether you're spinning silky licks and soulful grooves, tearing it up with a roaring solo, or sitting in the pocket with popping funk lines, ELECTRIC MINT delivers timeless tones to the freshest productions, with patterns and built-in MIDI chord progressions for any style packed into one playable instrument.
A TRINITY OF TONE
From rock 'n' roll to soul, funk to R&B, reggae to drill, and everything in between, The ELECTRIC MINT model brought six strings to the heart of popular music. With three combinable pickups unlocking a world of tone control, it soon solidified its place as the go-to tool for some of the most iconic guitarists of the last five decades.
SWITCH UP YOUR SOUND
A powerful rig in a compact package. Dial in your tone from the instrument itself, blend in a vintage dynamic microphone signal, and send it through a collection of amps and new speaker cabinet emulations. Browse an extended library of 71 sound presets, from D.I. and clean tones, to crunchy and high gain. Keep it simple or build monstrous effects chains with an expansive collection of studio-grade effects, including the new SUPERCHARGER GT compressor, 'Cry Wah' effect to emulate typical Wah-Wah patterns, and convolution reverbs to hear your amp in different rooms.
DRAG-AND-DROP MIDI PATTERNS
Kickstart your songwriting process with ease using the new genre tabs in the browser, and click on a song preset for an instant preview of the patterns and effects. Explore a range of four-bar chord progressions for each pattern, and drag the progressions, phrases, and voicings into your DAW to create your own customized parts. ELECTRIC MINT also comes with an improved playback engine for even more realistic funk patterns.
TWO WAYS TO CREATE
The do-it-all session player, now in your DAW. Be inspired by the included phrases, voicings, and chord progressions, or get hands-on with crafting your own voicings and phrases that retain the original rhythm. With patterns covering a vast range of genres, playing styles, articulations, and techniques, use them to spark fresh song ideas or add the perfect finishing touches.
LIFE-LIKE LICKS
A dedicated melody instrument allows you to perform with fingers or a plectrum, whilst the engine generates realistic hammer ons, pull offs, slides, legato, and more. Alter the decay of muted notes, shift accents between downbeats and offbeats, dial in swing and humanize to lock in with your composition, and choose between tremolo bar and finger vibrato for expressive pitch control.
PLAY IT WITH KOMPLETE KONTROL
As with the rest of the SESSION GUITARIST series, ELECTRIC MINT offers full integration with KOMPLETE KONTROL hardware and NKS. Take advantage of the Light Guide to display key ranges, articulations, and expressive techniques such as slides and mutes, allowing you to effortlessly switch between playing styles and articulations mid-take.
CREATED WITH DRUMASONIC
ELECTRIC MINT was created in collaboration with drumasonic – the award-winning team behind PRIME BASS, ELECTRIC SUNBURST, ELECTRIC VINTAGE, STRUMMED ACOUSTIC, STRUMMED ACOUSTIC 2, PICKED ACOUSTIC and PICKED NYLON.
AT A GLANCE
– Product type: KOMPLETE Instrument
– For use with: Free KONTAKT PLAYER or KONTAKT
– Sound category: Six-string electric guitar
– Number of sounds: 222 patterns, 53 songs
– Download size: 14.6 GB (uncompressed)
– Free KONTAKT PLAYER or KONTAKT. Please also see the KONTAKT PLAYER system requirements and the KONTAKT PLAYER FAQ.