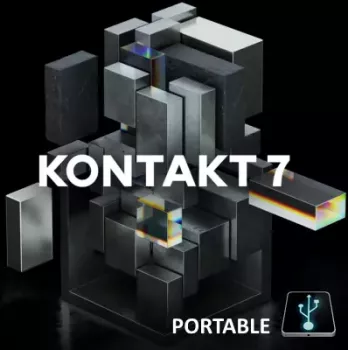 With KONTAKT 6, you can sound like a snare drum, a symphony orchestra, or anything in between, from a universe of sampled instruments. It's a simple sampler when you want it to be, and a deep sonic scripting laboratory when you need something more. The next generation of the world's favorite sampling platform gives you new instruments and new features under the hood – so you can layer, link, stretch, and shape your sounds any way you can imagine.
Additional functionality:
1. Activation of protected libraries is not required, the ability to register (add to bookmarks) in batch mode.
2. Ability to edit patches of protected libraries.
3. Possibility of resaving with samples patches of protected libraries.
4. Ability to edit password-protected scripts.
Features portable (PORTABLE) version :
1. Installation, including additional software (Service Center, Native Access, MS VS C ++ runtime), is not required.
2. All settings are saved in the program's portable folder (the Windows registry and other system stores are not used, administrator rights are not required * ).
3. Integrated Library Manager, which provides full control over protected libraries, and also allows you to register unprotected (self-made) libraries without generating nicnt files.
4. Ability to work simultaneously with the installed version of the Contact without conflicts and with different settings.
Notes:
* Requires (super)administrator rights if the portable program folder is placed in a protected system storage (for example, in Program Files) – such a location for portable programs is unnatural and not recommended.
Kontakt PORTABLE is not compatible with the NKS (Native Kontrol Standard):
1. Instruments of NKS-compatible libraries added to Kontakt PORTABLE will not appear on the screen of an NKS hardware device (Komplete Kontrol or Maschine). Accordingly, they cannot be selected, previewed and downloaded directly from the device's browser, but only through the interface of the Contact itself.
2. The controls of an NKS-compatible library instrument loaded into the Kontakt PORTABLE are not automatically bound to the controllers of the NKS device, only manually in the standard way for external MIDI devices (MIDI Learn).