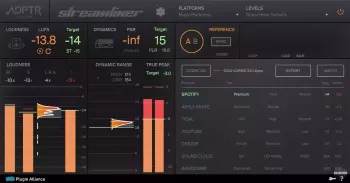 ADPTR AUDIO's Streamliner is a comprehensive mastering plugin designed to optimize audio for digital streaming platforms. It features state-of-the-art metering tools for loudness, dynamics, and true peak levels. There's also a codec auditioning feature that simulates how audio will sound when streamed.
Streamliner offers A/B comparisons with reference tracks, automatic loudness matching, and the ability to export audio files in platform-specific codecs. It lets you make informed mastering decisions by providing these features in an easy-to-use interface, ensuring your music sounds its best on Spotify, Apple Music, and many other platforms.
Hear how your music will sound when streamed online
One of the most significant pain points when mastering music is the uncertainty of how the final product will sound once it's uploaded to streaming services. Each streaming service transcodes your music differently, which can lead to clipping and other undesirable effects. A mastering plugin like Streamliner addresses this by allowing you to hear how your music will sound when uploaded to streaming services such as Spotify, Apple Music, YouTube, and more.
Codecs for major and minor streaming services
Streamliner supports a wide range of codecs, ensuring that your music is optimized for both major and minor streaming platforms. This feature allows you to preview how your audio will play back when uploaded to various streaming services, giving you the confidence that your music will always sound its best. Whether the playback codec is AAC, MP3, Ogg Vorbis, or Opus, Streamliner has got you covered.
Avoid clipping with comprehensive metering
Streamliner also serves as a powerful metering plugin. It combines state-of-the-art real-time meters for loudness, dynamic range, and true peak levels, allowing you to fine-tune your audio with precision. This ensures that your tracks will not clip when played back by streaming services, maintaining the integrity of your music.
Compare your mix to reference songs
Streamliner allows you to easily compare your mix to reference songs. This feature helps you understand how your music stacks up against tracks released by industry-leading artists. Streamliner offers a real-time A/B comparison feature and loudness matching, making achieving a professional-sounding master easier than ever.
Discover how loudness normalization will affect your masters
Understanding loudness normalization is crucial in today's digital music landscape. Streamliner indicates how loudness normalization algorithms will affect your mastered tracks. This enables you to make adjustments before uploading, ensuring that your music retains its quality across all platforms.
Batch export files with codec compression
Streamliner simplifies your workflow by offering a batch export feature that allows you to export all codec profiles from your current platform preset in a single click. Use these audio files to test the quality of your music on various devices like mobile phones and laptops. The exported files are automatically renamed with platform and tier information to help you stay organized and save time.
Features
– Optimize playback for 20 different platforms: Amazon Music, Apple Music, Bandcamp, Beatport Pro, Deezer, Facebook, Gaana, Hungama, Instagram, Jio Saavan, Mixcloud, Napster, Pandora, Primephonic, SoundCloud, Spotify, TIDAL, Twitch, Wynk, and YouTube Music.
– Premade streaming platform presets
– Zero-latency meters (loudness, dynamic range, true peak)
– Built-in target levels
– Four codecs: AAC, MP3, Ogg Vorbis, and Opus
– Bitrate options: 320/256/224/192/160/128/96/64/32
– Real-time A/B mix comparison
– Loudness matching
– Sonic artifact auditioning