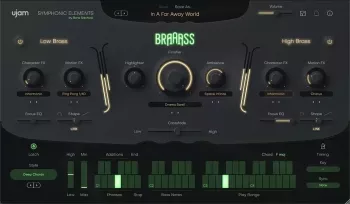 The Call to Adventure
Mighty brass from Hans Zimmer's personal collection
Make anything epic!
BRAAASS puts Hans Zimmer's personal collection of brass section phrases at your fingertips. Tried and tested in Hollywood, this latest addition to the Symphonic Elements series makes this sometimes tricky key ingredient of modern music production intuitively accessible. Summon the spirits of epic with BRAAASS!
Million-dollar sound
UJAM is happy to count Hans Zimmer—one of the world's great film composers—as one of its co-founders. Hans generously gave us access to his legendary recordings, amassed over decades, for use in BRAAASS.