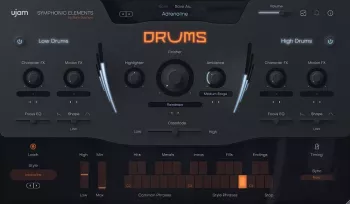 The Primal Force
Drums and percussion from Hans Zimmer's forge
Like fire and ice
DRUMS puts Hans Zimmer's personal collection of percussive samples and phrases at your fingertips. Tried and tested in Hollywood, this rhythmic companion to STRIIINGS makes cinematic drums accessible for anyone. Invoke the natural forces of rhythm with DRUMS!
Million-dollar sound
ujam is happy to count Hans Zimmer—one of the world's great film composers—as one of its co-founders. Hans generously gave us access to his legendary string recordings, amassed over decades, for use in DRUMS.
Enrich your palette
Get your hands on Hans Zimmer's epic collection of cinematic orchestral instruments. Many of them are hard to come by, even harder to set up and their playing techniques only mastered by a few. Add character and vibe to your production, no matter if film score or pop music.
Ready to rumble
Programming realistic percussion tracks can be daunting. That's why the UJAM performance engine provides ready-made sequences and creative controls. Arranging, recording or even programming this type of drumming is usually very costly and time consuming. With DRUMS it's fast and easy; instantly synced to your DAW's tempo.
DRUMS takes care of the details, so you can focus on your music!