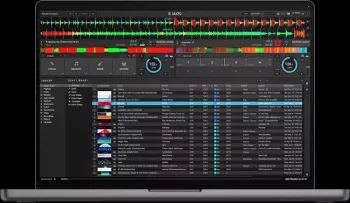 The best DJ software to learn! With its integrated video DJ Academy, interactive help, Intelligent Music Assistant and BeatMatch Guides system, DJUCED is the right software for your first steps into the world of DJing. DJUCED, the DJ software that will guide you from your first steps in your room until the success of your first show.
ONE VERSION THAT FITS EVERYONE
– DJUCED offers all you can expect from a Professional DJ Software.
– A MODULAR INTERFACE, customizable according to your tastes.
A FULL SUITE OF EFFECTS
– LOOPS, HOTCUES, BEATJUMP, MULTILAYER SAMPLERS
– Everything to remix your songs.
– Synchronization up to 4 DECKS, SLIP, QUANTIZE and DJUCED STEMS modes to push the limits of traditional mixing.
RECORD YOURSELF, SAVE AND SHARE
– Save your Set and share it on Mixcloud or Soundcloud, in just a few clicks.
– Nothing is more disappointing than being limited in standard functionalities and having to pay for an upgrade.
High Performance Specifications (Required for Stems)
– Processor : 8th generation Intel Core i7 or higher (2018 or later)
– Memory : 16Gb or Higher
– Operating systems : Windows 10 & 11 (64-bit)
– Audio : Use ASIO Audio drivers
– Storage : 16GB of free space on a Solid State Drive (SSD)
– AVX support required
Recommended Specifications (Required for Stems)
– Processor : 7th generation Intel Core i7 or higher (2018 or later)*
– Memory : 8Gb or Higher
– Operating systems : Windows 10 & 11 (64-bit)
– Audio : Use ASIO Audio drivers
– Storage : 16GB of free space on a Solid State Drive (SSD)
– AVX support required