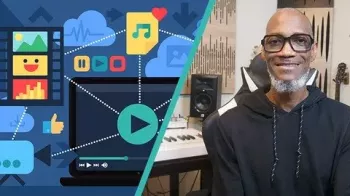 An Introduction to the world of production music libraries, track placements, royalty earnings and much more!
What you'll learn
How to identify potential music libraries and submit tracks to them for placement
Equipment needed to produce music for production music libraries
Understand the different payment models, licensing fees and performance royalty earning opportunities associated with production music
Mixing & Mastering best practices for producing music for production music libraries
Common industry terms and definitions
Understand the need for and the function of performance rights organizations as it relates to royalty payments
Requirements
No prior experience or skill level is needed prior to taking this course. Our objective is to equip you with a better understanding of production music industry and opportunities for music placements on these platforms, as they are a common path to film & television placements.
Description
Creating production music for production music libraries is one of the most sought-after avenues for music creators desiring to get sync placements in film and television, as well as marketing ads, corporate videos, and much more.With the affordability of home studio equipment and production software — the possibility of earning sync and or performance royalties for music creators has become quite an attractive prospect for many producers, composers, beat makers, and musicians alike.New channels and streaming platforms are being introduced all the time, and production music libraries are constantly being sourced to supply the seemingly, never-ending need, to license music for sync to video.Now while the need for production music is undeniable the information around how producers and musicians can get involved with creating music for those libraries is a bit scarce, to say the least. My name is Todd Jones, I have over 18 years of experience in writing and producing music for production music libraries. I have created this course to help demystify the process and help you get practical tools and information around writing music for production music libraries. This course is designed to give you the knowledge and tools you need, in an intuitive way, so that you can get the most out of the course. No need to scour the internet looking for relevant information we've got it all right here! Make an investment in your music career and enroll today!